After a summer hiatus during which we strategized and brainstormed (and wrote grant applications), we're back with more material from the archives! 
This week, I'm highlighting some materials donated by individuals from personal archives: class notes.
Class notes are the kind of thing that usually don't survive more than a generation or two, if they even survive past the beginning of the summer. (Don't lie, have you ever tossed a year's worth of class notes into the trash with a great sense of satisfaction?)
Thankfully, some of us are hoarders and keep every scrap of paper we've collected through the years. Having access to these class notes is a tremendous benefit to scholars and researchers of Bais Yaakov, since it allows us to take a deeper look into what was taught in the classroom.
We can of course use resources like Torah Umesorah to find out what materials teachers use, and we sometimes have access to school curricula.
But how do we know what classroom instruction actually looked like? How can we know if the lessons in official documentation were delivered that way, or if they were altered by each teacher to fit her style and method? How can we know how the lessons were received by students?
That's where materials like class notes come in. From these valuable documents, we can glean information like the structure of a lesson; the words and terms used; the note-taking methods of students; and whether students doodled or not.
We currently have material from three individuals: myself, with notes from Bais Yaakov of Boro Park (1994-2002) and Bais Yaakov High School (2002-2006); Mindy Friedlander Schaper, with notes from Bais Yaakov of Boro Park (1994-2002) and Bais Yaakov High School (2002-2006); and Shamira Gelbman, with notes from Shulamith (1984-1988), Bnos Leah Prospect Park Yeshiva Elementary (1988-1992) and Bnos Leah Prospect Park Yeshiva High School (1992-1996). We also have a workbook in Hebrew language and grammar from the 1960s.
We are continuing to digitize and post the material we have from these individuals, and we hope to get more from other schools so we can represent the full spectrum of Bais Yaakov! If you have notes or workbooks from your own school days, or if your mother, aunts, grandmothers, etc., have any papers saved, please let us know here.
Click on the links below to see the items along with information about them.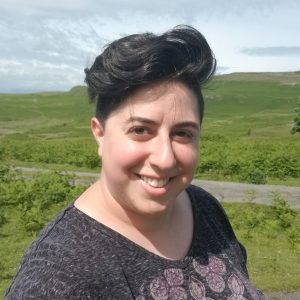 Dainy Bernstein is a PhD Candidate at the CUNY Graduate Center, finishing her dissertation, "Chanoch La'Na'ar: American Haredi Children's Literature and Education, 1980-2000." They teach composition and literature at Lehman College.