Sarah Schenirer did not want her portrait taken. The only two images of her that exist are this one, on her application for an ID card, and a drawing. We include the border of her ID card application to honor the spirit of her wishes.
Sarah Schenirer was born in Kraków on July 3, 1883, the third of the nine children of Bezalel and Roza (Lack) Schenirer, a family of Belzer Hasidim which also had ties with Sandzer Hasidism. She passed away, after a brief treatment for stomach cancer in Vienna, on March 1, 1935, in Kraków. She had a formal education of only eight grades, but was a gifted autodidact both in traditional Jewish sources (which she seems to have read mostly in Yiddish translation) and in secular culture, reading widely in German and Polish literature and attending public lectures and plays. She was intensely religious, but felt that the Orthodox world lacked resources for women with her religious and intellectual passions. Her founding of Bais Yaakov emerged from these interests, her concern about her Jewish "sisters" who were defecting from Orthodoxy, and from her experience of neo-Orthodox Judaism in Central Europe: she was inspired to start the schools, she writes in her memoir, by hearing a sermon in late 1914 about the biblical heroine Judith by Rabbi Moshe David Flesch (1879-1944) in the Stumpergasse Synagogue in Vienna, where Sarah Schenirer had fled along with a flood of other refugees from Galicia with the outbreak of war.
Sarah Schenirer worked as a dressmaker in Kraków from the time she left school until 1917, when she founded her first school and turned her attention to teaching. She was married twice, first to Shmuel Nussbaum (1910-13), from whom she was divorced, and the second time to Yitzkhok Landau (by 1931). She was not only the founder of the Bais Yaakov schools, but also traveled throughout Poland in support of the system. She was a prolific writer of articles, scripts for Bais Yaakov school plays, letters to individuals and missives to Bnos groups and Bais Yaakov schools, and the first Bais Yaakov textbook (the two-volume Yahadus, published 1928). Her Gezamelte shriftn [Collected Writings] appeared in 1933, and was reissued by a committee of Bais Yaakov educators in Brooklyn in 1955, on the twentieth anniversary of her death (Hebrew translations of her work, along with additional material on her and on Bais Yaakov, appeared in 1955-60 and 1983 as Em be-yisrael). Sarah Schenirer's Polish diary for the years 1910 to 1913 surfaced a few years ago, and will be published in Polish and English in Pisma Autobiograficne (autobiographical writings by Polish Jews, edited by Dariusz Dekert and Joanną Lisek).
---
Sarah Schenirer's Parents
Sarah Schenirer's parents were Zalel (Bezalel) Schenirer (1853-1911) and Rozalia (Roza) Lack Schenirer (1855-1937). The family owned a dry-goods store and were Belzer Hasidim; Bezalel also was a gifted cantor. She writes of them in her memoir:
My father, of blessed memory, was named Rabbi Bezalel Hakohen of Turna [Tarnów], and he was a descendant of the Shakh, whose family were later among the first followers of the Sanzer Rebbe.1 My father's mother, Sheina Feigl, of blessed memory, was truly a great saint. People still have many things to say about her piety, goodness, and modesty. On the iciest days, she would carry warm tea to the yeshiva boys sitting in the study house. She would spare no expense to serve the holy Sanzer Rebbe, and all in all had the finest character. My mother, long may she live, is from Kraków, a granddaughter of Rabbi Abraham Lack of blessed memory, whose wife, my grandmother Chaya, came from the Carmel family and was a direct descendant of the Bach.
---
Sarah Schenirer's Siblings
Sarah was the third of nine children. According to an interview with her nephew Tulo Schenirer, son of Yakov Schenirer, these siblings ranged from devoted Hasidim to entirely secular, a diversity not unusual for the period. Of these eight siblings, two died in 1934, the year before Sarah Schenirer passed away of cancer. The other five were all killed in Belzec.
Lea
The oldest Schenirer child, Lea (1875-1942), was married to Kalman Mandelbaum and had six children.
Juda/Yehuda
Juda/Yehuda (1880-1942) was a strictly religious businessman who lived in Tarnów and had two children.
Aaron/Jurek
After Sarah came Aaron/Jurek (1886-1942), who was also religious, and who had two children; he lived in Leipzig until he was deported by the Germans in 1938 and returned to Kraków, where his family found him work in a factory.
Helena/Chaya
Helena/Chaya (1888-1942) lived in Kraków and worked as a Hebrew teacher, while her husband owned a warehouse; they were moderately religious.
Shimon
Shimon (1890-1942) was Sarah's favorite sibling, a Belzer Hasid who served from 1935 to 1939 on the Kraków rabbinical court. Either Yehuda or Shimon was the brother who brought Sarah Schenirer's note to the Belzer Rebbe in Marienbad.
Yaakov/Jakub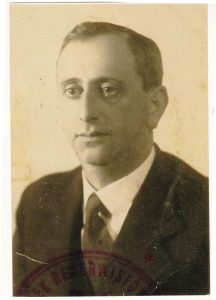 Yaakov/Jakub (1891-1934), served in the Polish Army during WWI, worked in a bank, held Zionist views, and kept a kosher home (although only he only attended synagogue on major holidays). He married Helene Wertheimer in 1925 and their son Tulo (1927-2012) was born two years later. He died suddenly of meningitis in 1934.
Matylda/Mania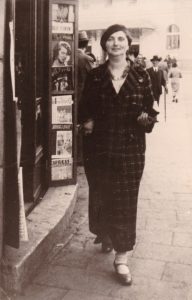 Matylda/Mania (1892-1942) worked as a secretary in a brick factory and apparently never married. She and Sarah traveled together often.
Avraham/Romek
Avraham/Romek (1897-1934) was a gifted composer musician who played many instruments, and was completely secular, according to Tulo. He had four children and worked in the same bank as Jakub, with whom he was very close. In 1934 he left for Berlin to undergo surgery, taking his family with him. The operation was unsuccessful and he was buried in Berlin.
---
Sarah Schenirer's Niece and Nephew
Two of the siblings' children survived, Romek's daughter Anni (1925-2014), and Yaakov's son Tulo (1927-2012). The two met once after the war.
Anni
Anni traveled to England on a Kindertransport in 1939. After the war she married Ralph Goodman, immigrated to the United States, and had two sons, who presently live in Florida and outside of New York.
Tulo
Tulo survived the Kraków ghetto and three concentration camps. He lived in Poland after the war moving to Israel in 1959, where he married Rita Wachs (b. 1931) and had two daughters, who presently live in Tel Aviv and Ra'anana.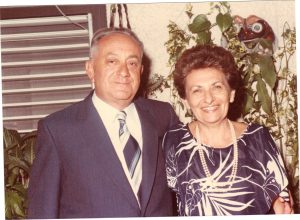 These four great-nephews and nieces, and their children and grandchildren, are Sarah Schenirer's only known surviving family. Tulo remembered his aunt, and was proud of her accomplishments all his life.
Other than the material on Sarah Schenirer's ancestors, this information is taken from: Aleksander B. Skotnicki, Polsko-izraelskie losy Tulo Schenirera i jego rodziny [The Polish and Israeli Fate of Tulo Schenirer and His Family] (Kraków: Wydawnictwo AA, 2009).